Be sure to join us for a Halloween-inspired extravaganza at Redmond's Robertson Performing Arts Center, when guest conductor Leah Weitzsacker will lead the band through Eric Whitacre's "Ghost Train," Mussorgsky's "Night on Bald Mountain," "Unquiet Spirits" by John Mackey, and more! Tickets available online here!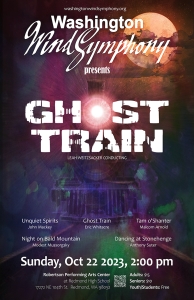 We are looking for a few good musicians!
We currently have openings for:
Bassoon
Percussion
Harp
In addition, the symphony is currently looking to add players to section substitute lists!
For more information, please visit the Join Us page.
The Washington Wind Symphony is a 501c(3) organization. If you would like to support the Washington Wind Symphony, donations may be mailed to:
Washington Wind Symphony, PO Box 3743, Bellevue, WA  98009
You may also donate online via PayPal: